Anything is good if it's made of chocolate.
From different sizes, different shapes to different fillings, you name it and our expert chefs will treat you with lip-smacking delicious handcrafted chocolates. We take orders for special occasions like weddings, birthdays, anniversaries, Valentine's Day, and many more. We also engage in bulk orders from corporate sectors for corporate gifting and promotional events.
Delight in Every Bite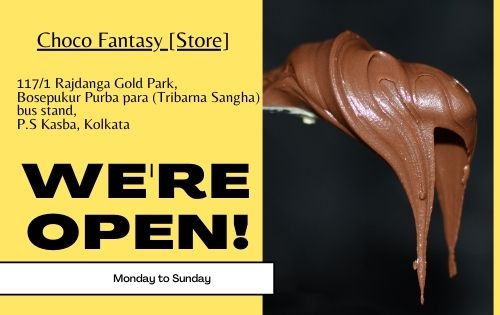 Dark chocolate
The phrase "tasty and healthy" is probably best suited for dark chocolates. Apart from being mouth-watering, dark chocolates are a powerful source of antioxidants. It is also known to improve blood flow and lower blood pressure. No wonder this multi-purpose delicacy is gaining so much popularity among chocolate lovers.
Assorted chocolate gift hamper
You can never go wrong with chocolates. These assorted gift hampers are a perfect present for any occasion and for any age. The hamper has both dark and milk chocolates to give you the best of both worlds. What's more exciting is that they come in various shapes like rose, square, and circular.
Chocolate lollipop
The little ones will love these fun chocolate lollipops. Smiley faces, elephants, and teddy bears are a few of the shapes this sweet indulgence offers.
Colorful design chocolates
Break the monotony with some color. These colorful design chocolates will not only satisfy your sweet tooth but also make sure you come back for more.
Layered chocolates
Can't decide on one flavor? Want two at the same time? Worry not! These double-layered chocolates come with combinations of orange and dark, or white and milk chocolate. They will become your favorite from the very first bite.
Customized chocolate gift boxes
Choose your own flavors, fillings, shapes, and mix them up for the perfect box of chocolates you want to gift your loved ones. You can customize the packaging by choosing from the variety of chocolate boxes available in warm colors. Drop by our store to enjoy more handmade scrumptious chocolate delicacies like these.
Corporate gifting
Chocolate is the happiness you eat. We bring you a unique way to say thank you to your clients and colleagues or simply to celebrate a successful business deal. Our deeply divine chocolates are a perfect solution for corporate gifting. We use premium quality ingredients and implement stringent operational procedures to certify the flawlessness and safety of the healthy delicacies we manufacture. Wipro, Berger Paints Pvt Ltd, Toyota, Hyatt, and Mankind Pharma are a few of our happy customers. We do branding on the chocolate box, chocolate wrapper, and even on the chocolates in an edible form. Choose us to make your corporate gifting easier and tastier.
See you at the store
We, at
Choco Fantasy
, strive to create the finest chocolates that will keep your dopamine levels high. So, for the love of chocolates, how many are you buying today?