Chocolate Gift Boxes are the most ideal and lavish option as a gift and come in various weights with a price varying accordingly. The chocolates included in the box are sumptuous and exclusive.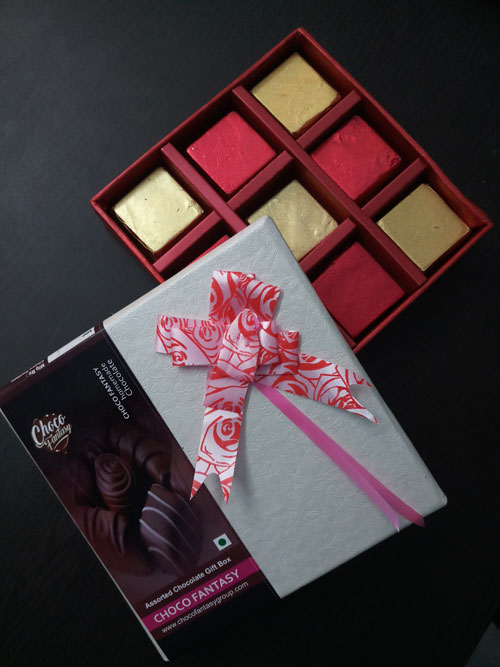 Choco Fantasy never compromises on quality therefore along with the chocolates, the boxes are manufactured with utmost care as well, to give the chocolates the perfect feathering possible.
Few boxes are made of pinewood and are given a loving finishing to match the quality of the chocolates.
Assorted Chocolate gift boxes are an especially limited edition creation of Choco Fantasy
There are sorted spaces for every chocolate to fit in comfortably inside the box preventing any damage to the products.
The packaging process of the chocolates is done by maintaining all the hygiene decorum with shiny foil wrappers.
We customize gift boxes for special occasions like Mother's Day, Father's Day, Anniversary, Valentine's Day, etc. with the price varying accordingly.
Order your fair share of chocolate indulgence now.
The different varieties of Chocolate gift boxes for homemade chocolates are listed below:
Gift Box For Special Occasion available in both Dark and Milk Chocolate variety
Pinewood Gift Box
Heart Shaped Gift Box
Floral Gift Box
200grams Assorted Chocolate Gift Box
400 grams Assorted Chocolate Gift Box