The season of chill is officially here in the town.
Brrrr!!!
Also, this is the time of the year when cozy blankets, warm sunshine, cups and jugs of coffee, plum cakes, carols, procrastination (of course), etc. come in handy.
WINTER IS FINALLY HERE!!! No offense blocked noses and sinuses, but some of us are taking out our jackets/hoodies/scarfs/sweaters to step outside along with our workplace mates, colony friends, and family as we head towards maybe a restaurant or a bar during Christmas or a family get-together on Thanksgiving or maybe a Sunday mass, because who wants to waste any minute of this time of the year?
But to those who would prefer staying indoors, under their comfy blankets, and spending hours on online shopping here are bringing to you Choco Fantasy's Christmas Day Gift collection that you can order online in India, starting from lip-smacking chocolates to a decorative corporate gifting section.
We present to you a wide range of chocolates to choose from and also customize the chocolate boxes according to your own wish.
Our corporate gifting section has a wide range of accessories to choose from and will certainly be a Christmas goodie or a New Year luxury for your office mates.
Still, having a second thought?
Here's a tip: This year, we're adding gifts to Santa's cart and the elves know the rest.
List of 11 Best Christmas Day Gifts That You Can Buy Online in India
Dark Chocolate Cubes –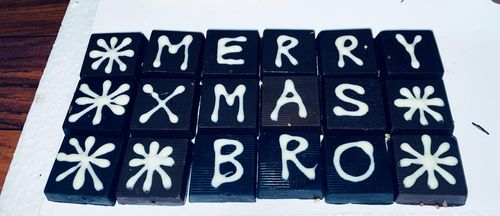 Straight out from an elf's wish list, these square-shaped goodies are made with rich dark chocolate, keeping in mind the sugar cravings of a dark chocolate lover (works like a charm). Also, be it any short X-mas message, you think of, for anyone, we'll make sure to add that on top.
Chocolate Christmas Tree (white chocolate) –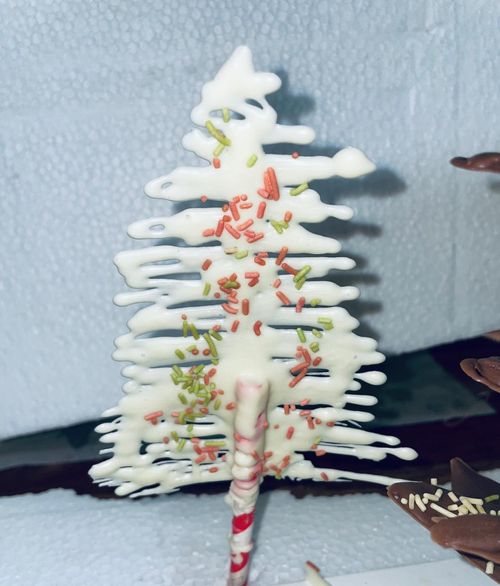 The name speaks for itself, doesn't it? One of Choco Fantasy's festive specials, this Christmas tree is literally not any usual tree. IT'S MADE OUT OF CHOCOLATE AND YOU CAN EAT IT!! Need we say more?
Assorted Chocolate Box –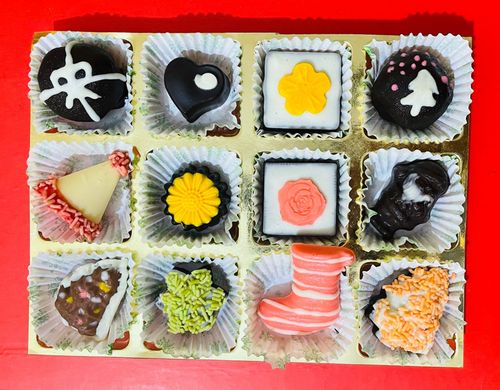 White chocolates, dark chocolates, chocolates with nuts, butterscotch chocolates, etc. You name it and we have it ready for you in Choco Fantasy's especially packed assorted range. Personalize the décor of the box's cover as per your need. If you're a secret Santa, then this has to be your go-to Christmas gift for a special someone.
A Cone-full of Chocolate –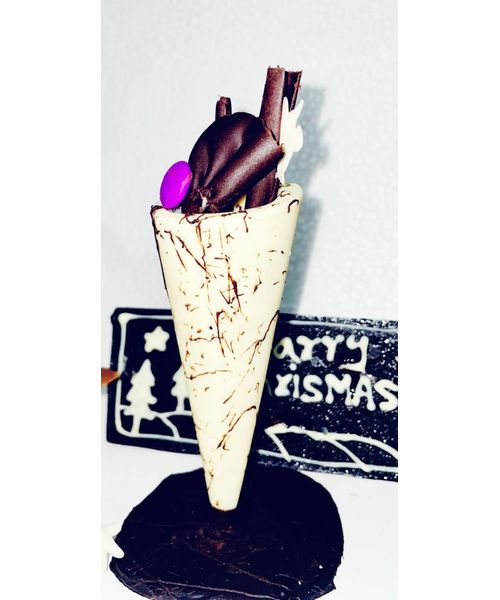 Tried that ice-cream cone, huh? Tastes so good. A cone-shaped glass of your favorite beverage? Worth it, right? But a cone, made out of chocolates? Well…. that's going to last in the tummy and in the mind for some time.
Choco Fantasy's enormous, hand-made treat has several layers of chocolate fillings, on the inside, while the cone is made out of white chocolates, exclusively. Had our "feelings" go crazy for this delicious chocolate-y delight.
Eggs on a Crater –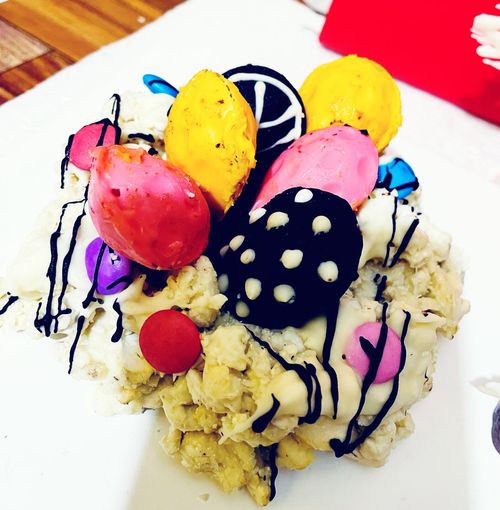 Placed on a crusty layer of white chocolate, nuts, and gems, are specially baked hand-made Easter eggs!! Choco Fantasy presents to you its collection of Easter eggs on white chocolate that comes with the eggs in several flavors like mango, strawberry, etc. To choose from.
Easter, with your loved ones and this treat from us? Truly, wholesome.
---
Christmas Chocolate Gift Boxes by Choco fantasy click below:
---
Chocolate Christmas tree –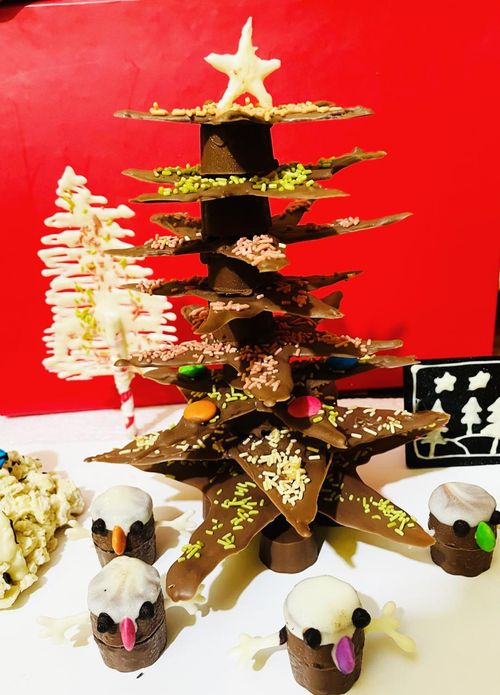 One for the showcase? Sure. But this short-heighted Christmas tree comes in both dark and white chocolate flavors, according to your choice. Now you can savor it as a showpiece and might as well eat it as well before someone else does.
Choco Fantasy Mini Treats –
This mini box consists of your go-to range of chocolates to choose from- dark chocolate balls, white chocolate balls, assorted chocolate cubes, and Oreos dipped in chocolate to choose from. Be it any occasion, this little box of chocolate goodies can bring a smile to someone's face, instantly.
Choco Fantasy's Festive Gift Box –
Certainly a Choco Fantasy special, this box of goodies consists of dark and white chocolate balls, Oreos dipped in chocolates, assorted chocolate cubes, rose petals, rose-scented candles, rose-scented incense sticks, etc. and a lot more, placed inside a box that we assure will be decorated and designed as per as your desire. So, wait no more, order from us now.
Choco Fantas-tic Treat –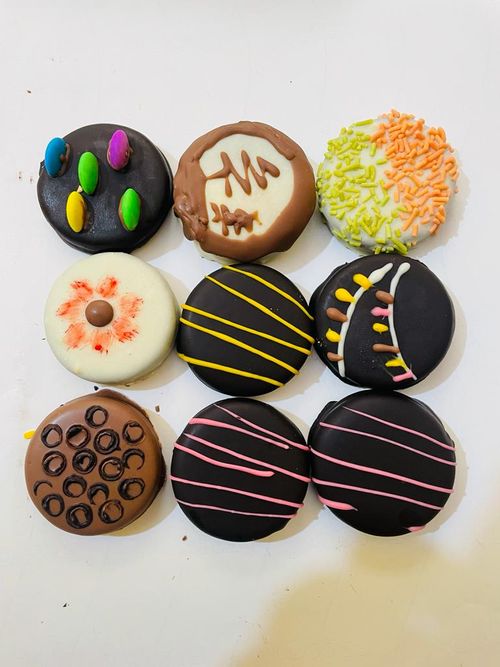 Imagine this: assorted chocolate balls, Oreos dipped in chocolate, chocolate cubes, car fragrance spray, jasmine-scented incense sticks, rose-scented incense sticks, potpourri, tea bags……..phew!!! All of this is placed under one roof. Yes, that's right. Also, the box can be decorated and designed as per your choice and demands- a treat for the soul, indeed.
Fair and Square –
These square-shaped dark chocolates are topped with white chocolates and exclusive flavors such as mango or strawberry. Customize or design them as per your wish and reach out to these mouth-melting treats.
Choco Fantasy Wedding Collection –
As we step into the wedding season, Choco Fantasy brings you its premium collection of handmade assorted chocolates, with a wide range for you to choose and place inside the box, starting from dark chocolate balls, to square chocolates and you can customize the writing on the chocolates as per as your wish. If you are the groom or the bride or even the parents of either, this is your chocolate box to add flavor to a typical wedding.
Final Words
We at Choco Fantasy are no Willy Wonka's chocolate factory, but we assure you the closest you can ever get to premium, hand-made chocolates, at affordable ranges to choose from and we even design them according to your choice, in personalized boxes, with an eye for detail!!!
Chocolate was never for one, but for all, and we provide you with our sumptuous chocolates to taste from, delivering them to your doorstep, too.
Apart from that, we have a corporate gifting section for our clients that have premium leather wallet collections, perfumes, pens, table clocks, and a lot more. Visit the online store below.