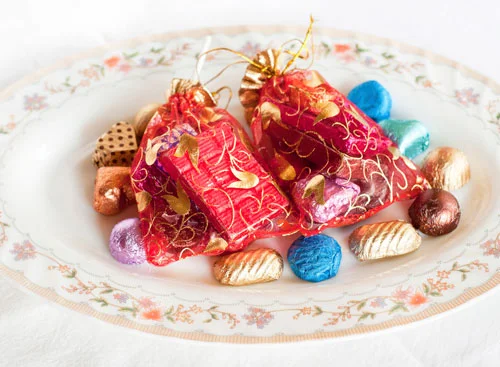 Assorted chocolate gift hampers are an ideal option to present for diwali and other festive.
Dark and milk chocolates are both available in this hamper and their price vary according to the quantity and weight of the hamper.
Buy Gift hampers in Kolkata from Choco Fantasy which are perfect for any occasion and for any age.
You are never too old for the homemade, chemical free chocolates from Choco Fantasy.
The chocolates come in different shapes like rose, square, circular and the packaging is lustrous and attractive done with safe and shiny foil wrappers.
The gift bag is made of glittery nprovidesprovide the ideal visual treat for consumers.
The different variety of Assorted Chocolate Gift Hampers are listed below:
Gift Hamper of 50 grams– 8-10 different shaped chocolates weighing differently together weighing 50g are included in the hamper. Both dark and milk chocolates are available in this hamper.
Gift Hamper of 100 grams (available in both dark and milk chocolate)

12- 14 differently shaped dark chocolates together weighing 100g. Get the goodness of dark chocolates and the bittersweet taste of this homemade delicacy.
12-14 differently shaped milk chocolates together weighing 100 grams. Get the rich taste of cocoa churned in milk with this soft and smooth mouth watering treat.