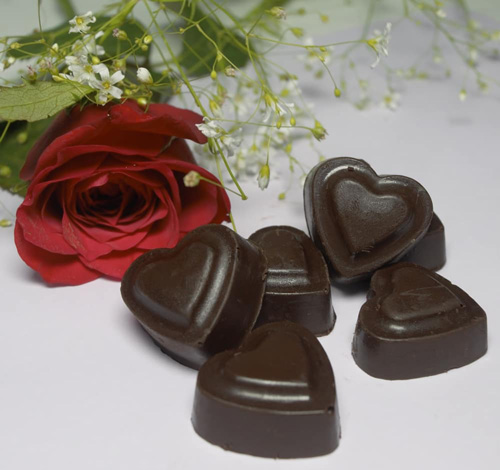 Dark chocolate was first made at least 3,000 years ago. It has developed in taste and texture throughout time and from the last century, it is the new favorite of the majority of the population for a number of health benefits.
Choco Fantasy has taken all the health benefits and public inclination towards dark chocolate into account and has developed a long line-up of dark chocolate delicacies.
Most dark chocolates having a high cocoa content have a series of healthy components that interact with cell and tissue components protecting us against the spread and impact of certain ailments.
Dark Chocolates of Choco Fantasy contain high amounts of flavanols (beneficial plant-based nutrients found naturally in cocoa) that defends us against harmful toxins that enter our body.
In cocoa and cocoa products the flavanols help in lowering blood pressure and cholesterol, improve mental cognition, and are a potent anti-diabetic agent for some people.
They're loaded with anti-oxidants that shield our heart from various cardio vascular diseases and delays the onset of age-related derogatory conditions.
According to Mesothelioma website, dark chocolates defends us from certain cancers, and more research should be conducted on dark chocolate's cancer-protective role as it provides "strong antioxidant effects in combination with a pleasurable eating experience".
Therefore, chocolate has been termed by people worldwide, for a number of justified reasons as an antioxidant-rich superfood! Indulge in all the beneficiary factors and mouth-watering taste of handmade dark chocolates from Choco Fantasy that are organic too.
At Choco Fantasy we don't use any strong preservative and stock is regularly cleared for quality purposes.
Dark chocolate price in Kolkata may vary depending upon the quantity and extra add-ons [optional] like gift boxes or hampers if required by the customer.