Often you need to give gifts to your office workers. It can happen on any occasion. Inside the office, sending gifts is a wonderful culture.
This culture creates a warm environment among the workers. It can be a way to solve any problem. There is nothing better than doing it in a meaningful way.
When it comes to gift, it depends on the individual character.
Whether the recipient is a sophisticated traveler, a classic gentleman, a young employee or a long-time friend of the company, Choco fantasy brings a variety of corporate gift options for you to thank employees, customers, and the business.
So, here I am giving some corporate gift ideas which are also in budget.
See these ideas below…
13 Top Corporate Gift Ideas to Choose From:
Whether you are a boss, a manager or a supervisor, it can always be a laborious task for everyone to present the right gift to your employees.
These are the people with whom you work every day, so you cannot be content with giving them a card formally, nor can you gift each of them individually according to their special needs and their likes.
So we have to maintain a balance between formal and informal, here we are to help you with this challenging task. Here are some ideas that will ensure that you do justice to every employee who ultimately contributes to the growth of your company with smiling faces.
---
Note: You can buy all the gift ideas mentioned in this article below directly from our online store, visit Choco Fantasy Store.
---
So, let's see some corporate gift ideas for clients & employees in India for any event or occasion.
Book:
Books can be a very good corporate gift. And if your employee is a bookworm, then the gift can be frozen. Order any book that your employee will like, and then gift it. You have to wrap the gift and give it to him or her.
Mug:
You can also gift a mug to your employees. There are many convenient aspects to gifting mugs. As you can buy mugs of any color and size if you like. Besides, people of all kinds, including book lovers, music lovers, science fiction lovers, film lovers, game lovers, like to eat tea, coffee.
So naturally, a mug is enough to please him or her. More than that, you don't have to go anywhere to buy a nice mug. You will find mugs of different colors and sizes in just about any ceramic store in general.
So buy a nice mug for a low-cost dear person to make her happy. Then wrap it beautifully and make a gift at the appropriate time. You can gift a mug to your employees or client on Diwali, Christmas or New Year.
Cosmetics:
In the case of girls, make-up accessories, perfume, etc. of the reputable brand can be given. For boys, perfume, body spray, after-shave lotion can be given. This is one of the best yet elegant gifts for your employees or client on Diwali, Christmas or New Year.
Wallet and Belt Set:
Wallets and Belt set is one of the best corporate gifts for male employees. There are many companies that make leather products of very good design. All their products are well packaged which are very beautiful and convenient for gift giving. This is a great gift set for both men and boys category. This is one of the great Diwali gifts for your office employees.
Microfibre Comforter:
This is a great family gift for Diwali that you can give to employees this year. The winter season starts after Diwali so most people need a blanket. Thus, this gift can be a good gift to woo the minds of employees in Diwali if your budget is less than 1000.
Lunch Box Set:
This can be a unique and important Diwali Gift Idea for almost all office employees as all corporate employees have to carry some tiffin during office hours. In this way, it will be a gift to those in need which will bring them happiness.
Wall Clock:
At a low budget, it is a great gift idea for employees. It can be made of plastic or wood and is best for the living room, bedroom and other.
---
Also Read: 10 Unique Diwali Gift Ideas For Employees
---
Portable Wireless Speaker:
If you want to give your office employees a gift that relaxes this Diwali, it may not be the best gift in a low budget. But, this is one of the best things you can gift to your employees. You can gift this on Diwali, Christmas and New Year to put a smile on your employee's face.
Dry Fruits:
Nowadays, the practice of giving dry fruits as a gift is also going on. It also has an advantage that it does not spoil quickly and is also beneficial for health.
There are many types of snacks available in the market, which you can give as a gift. People who are tired of sweet mouth will like it very much and will not spoil it too quickly. So, this is one of the best corporate gift ideas for Diwali.
Sweets:
The sweetness in relationships comes from our emotions.
For this, they are not in love with any sweets.
With this in mind, you can also gift gifts to people close to you, such as something to decorate the house or a card with your expressions written on them with wishes. This is one of the best corporate gifts in the budget.
Aromatic Candles:
If you want, prepare the sets of colorful and designer lamps at home. Beautiful smelling objects are also a good gift option that will beautify the home. This is one of the best gifts that you can gift to your employees at Christmas.
Silver Coins:
Silver coins have also always been very popular and excellent in gifts. It can be gifted on Diwali by packing silver coins. This gift is also a symbol of Lakshmi.
So, you can gift your employees silver coin on Diwali as a lucky charm. This is one of the best gifts you can gift.
And at last…
Handmade Chocolates by Choco Fantasy
Choco Fantasy is a handmade chocolate & corporate gifting company based in Kolkata. We make delicious chocolate items for different events & theme related occasions. We make personalized chocolate gift boxes with custom branding.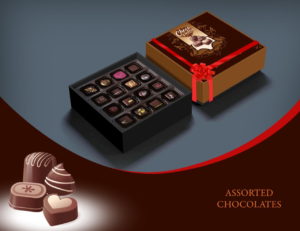 Some of our clients are Burger, Wipro, Manforce, Amrobrute, etc.
If you're looking for corporate gifts in Kolkata for employees, then Choco Fantasy is at your service.
Conclusion:
In this article, we have given you the best corporate gift ideas for employees on a budget. But here you need to choose your gift according to your corporate budget. Hope this article is helpful to you.