Choco Fantasy brings yet another exciting product for esteemed customers – Holi Chocolate gift boxes for corporate gifting and to gift others. This is an excellent gift idea for Holi in India, order online now.
HOLI is known as the festival of colors. It is one of the most important FESTIVALS IN INDIA. HOLI is celebrated each year with zeal and enthusiasm in the month by the followers of the Hindu religion. Those who celebrate the festival, wait for it every year eagerly to play with colors and have delectable dishes.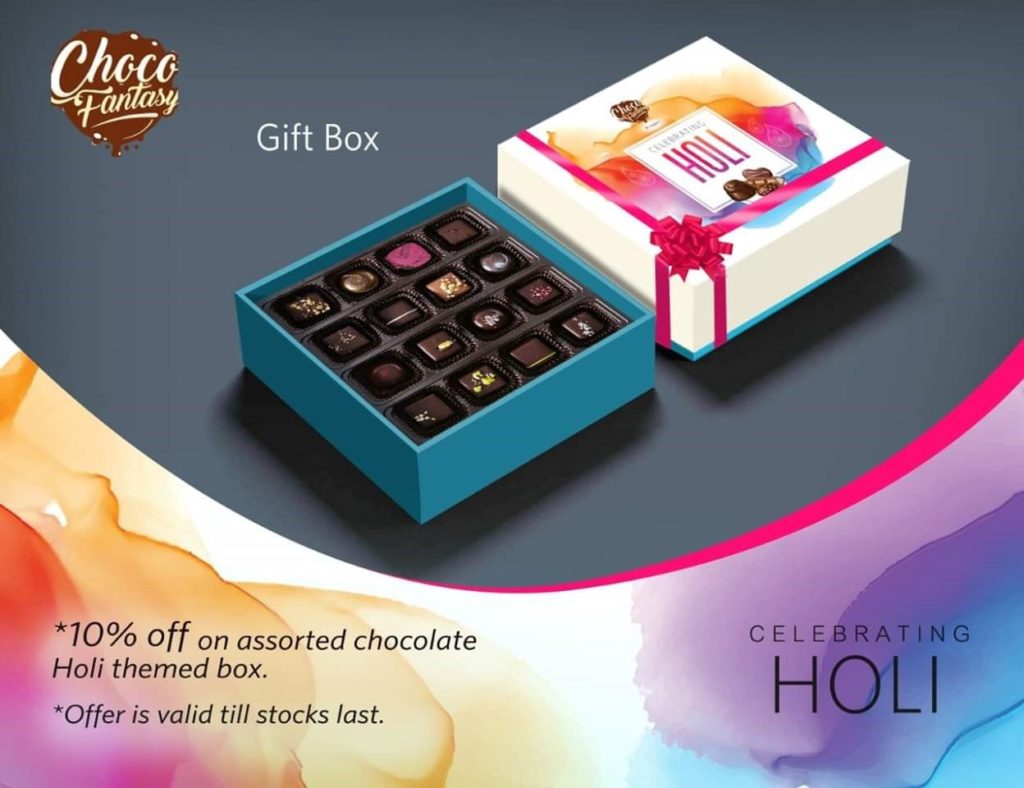 HOLI is about celebrating happiness with friends and family. People forget their travels and indulge in these festivals to celebrate brotherhood. In other words, we forget our entities and get into the festival spirit. Holi is called the festival of colors because people play with colors and apply them to each other faces to get colored in the essence of festivals.
In the evening, they bathe and dress up nicely for their friends and family members. They dance throughout the day and drink a special drink called the BHAANG. Peoples of all ages relish Holi's special delicacy GUJIYA ardently.
In sort, Holi spreads love and brotherhood. It brings harmony and happiness to the country. Holi symbolizes the triumph of God over evil. This colorful festival unites people and removes all sorts of negativity from life.
Chocolates are the perfect addition to this occasion to make this festival complete. The rich taste of hand-made chocolates will make surely make your loved ones feel more special as you splash and apply colors on each other. Chocolates have a strange aura to them as they can make any happy or joyous occasion even more special.
Chocofantasy specializes in hand-made chocolates. With love, effort, and patience we produce our hand-made chocolates which are sure to make your loved ones cherish every bite. Making this occasion special for your friends and family will surely make sure it is etched in their memories. At the end of the day, memories are what we cherish.
Shower love on your family and friends with a box of delicious hand-made chocolates with beautiful wrapping making it a perfect gift this Holi. The festival of "happiness", "love" or "spring", whichever you call it, we want to make it special for you. Celebrate the way you feel is the best for you as we offer boxes of various sizes to make sure your occasion is one to remember as you go down memory lane.
Buy Holi gift box for employees, family, or as a return gift. This handmade chocolate is the best & unusual gift idea for the Holi festival in Kolkata, India.
Call +91-9051247784 / +91-7003794349 to order via phone / or order online below