Suddenly the world dynamics have changed. The virtual world has never been this active in the internet's history.
The COVID-19 pandemic made sure that closed ones stay apart for a longer duration of time, friends and families don't get to meet each other frequently and there are many other adverse things that the human civilization has experienced since the dawn of COVID-19.
As humans, we develop and we find out ways to get what we want. Hence, we have this online world where we do most of the work and spend most of the time.
In India, we are festival crazy people and we WILL celebrate them. If we can't go out and meet each other, then we will do it online, but the celebrations must not stop.
Here are a few tips and tricks to celebrate Rakhi virtually during these unusual circumstances:-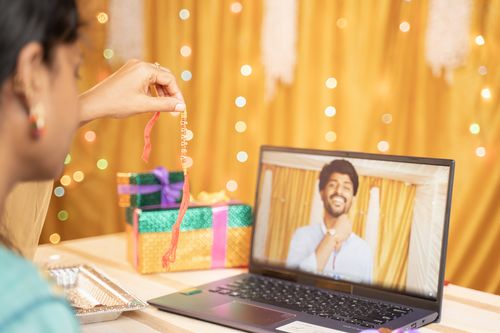 Zoom Calls
Zoom calls have saved us all in this pandemic and the video conferencing software has revolutionized how people socialize and work remotely. If we can work using Zoom, we can also celebrate festivals.
Turn on zoom, set-up up a meeting with all your siblings, decorate your background, and voila! Your Virtual Rakhi set-up is ready.
To actually get a feel of the Rakhi tying experience, as a sister you can parcel a Rakhi to your brother which he will have to wear on his own during the zoom call.
Wearing a Rakhi on your own is not a straightforward task, so it adds up to the fun.
As a brother, you can parcel the gifts and sweets to your sister which she has to open only during the zoom call.
This is one of the closest ways of experiencing Rakhi in these unusual circumstances.
Now comes the part of celebrations where the siblings eat and hang out together.
For this, you can pre-plan food items that you both want to eat and make or maybe order each other's favorite food and get it delivered to each other's place.
Even though you're miles apart, you can see each other on-screen and can get the feel of eating together and talking about stuff. Set up the table where you'll eat properly so that the food and you are visible.
Involving elders during the celebrations is also a great way to go about it. Taking their blessing is always a good thing, be it in person or online.
It is all about faith so the online version of it might feel weird but it works the same if there is mutual love and respect.
Playing online games together
The online gaming world has hit a boom recently where friends are playing together every day. A big part of Rakhi is the post food games that siblings play.
The siblings get together and play their favorite games. Maybe not all, but there are many games that siblings can play together and they are readily available.
Playing together brings up the competitive nature and also the bonding between siblings, which is very important. In these circumstances, these games can help siblings stay in touch and celebrate the occasions as if nothing has changed.
A game of chess, a word game, or maybe a full-fledged action game like Call Of Duty can be played.
A wide range of games is available for you to choose from.
Also read: 10 Traditional Rakhi Gifts for Siblings
Watching Shows Together
Web series has been a part of our lives for a long time but this pandemic has increased its demand a lot. As siblings, you can watch your favorite shows together even though you're miles apart.
You can tune in to the same TV channel or maybe start the same web series while on a zoom call. Get your snacks and drinks in place to get ready for a binge session or a movie session together.
While the show/movies run, you can talk to each other just as you would talk if you were in person.
Laughing, getting tensed, getting scared, and much more can be experienced together just over a simple zoom call.
Listening to music together
Listening to music together is also another option if it was something that you enjoy doing with each other. There are apps like Spotify which have features like "Group Sessions" where you can listen to songs together and enjoy.
It's just that you are not near each other, but listening to songs together will bring you too close to each other mentally.
Music is a great way to bond and get to know each other. Discovering music just like the old days, but miles apart.
Also read: Unique and Special Gifts for Married Sister
Carnival over zoom
The entire family can get on a Zoom call and celebrate the day together with a massive online get-together.
If you have siblings who play musical instruments or sing, it can be a great way to celebrate. For example, over a zoom call, one can sing and the other can play the guitar.
This will make sure the mini-concert that you had before the pandemic is still running. This will involve the entire family and the cheers which are seen after the performance will also be there.
There might be someone good at reciting poems, someone who is a comedian and cracks jokes which make the whole family laugh.
Almost all the events that happen in a normal family get-together during the Rakhi can be implemented online with a bit of innovation. Thus, taking your family carnival online.
Must read: Top 10 Funny Rakhi Ideas for Siblings
In these circumstances, staying in touch with family and friends is the most important thing. Festivals usually bring the family together in one place where they catch up and bond with each other.
Taking the whole thing online on this auspicious occasion of Rakhi can help you celebrate and bond with your siblings even though you're miles apart.
These innovative ways will keep the solid brother-sister relationship going on and even strengthen it further.
So, how are you celebrating this Rakhi?