Chocolate. The 9 letter word according to the oxford dictionary means a hard brown sweet food made from cocoa beans, used in cooking to add flavor to cakes, etc. or eaten as a sweet/candy a bar/piece.
It is one of those edibles which is considered to be good for memory, blood pressure and also reduces mental stress. It is indeed hard, to resist a good piece of chocolate. A surprise gift of a box of chocolate at the worst time of the day obviously is considered as a blessing for anyone!
Filled with sugar, rich cocoa, condensed milk powder the sense of melting of a good piece of chocolate certainly makes you feel s-o-o-o-o good for a while until the guilt of calories kicks in. But no more worries!
According to William Zoghbi, M.D., chair of the department of cardiology at Houston Methodist DeBakey Heart & Vascular Center, having a piece of chocolate every day has a good effect on the cardiovascular system.
9 Delicious Handmade Chocolates to satisfy your Hungry Soul in Kolkata

So don't stop gulping chocolates for "A little bit of sweetness can drown out a whole lot of bitterness."
Made from sugar, cocoa butter, liquefied cocoa beans and liquid milk or condensed milk, milk chocolate is indeed a treat for the taste buds. The perfect blend of milk and sugar with the cocoa beans makes the milk chocolate all the more sweet and soft than dark chocolate.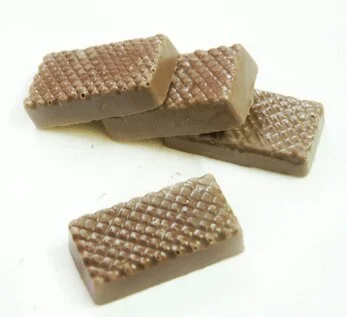 One study, published in the British Journal of Cancer in 2009, found that phenolics, a naturally occurring antioxidant present in chocolate, amped up the immunity system. Rough, dry hair can be made satiny and bright by layering it in a chocolate mask (by mixing cocoa powder with natural yogurt, oil, and honey), or one can add some cocoa powder to their favorite conditioner.
So waiting for what?
Grab a box of homemade milk chocolate right now from Choco Fantasy!
Though it is hard to believe, consuming a piece of dark chocolate every day is actually beneficial for your health! the history of Dark chocolate goes back at least 3,000 years. With time, the production of dark chocolate has increased.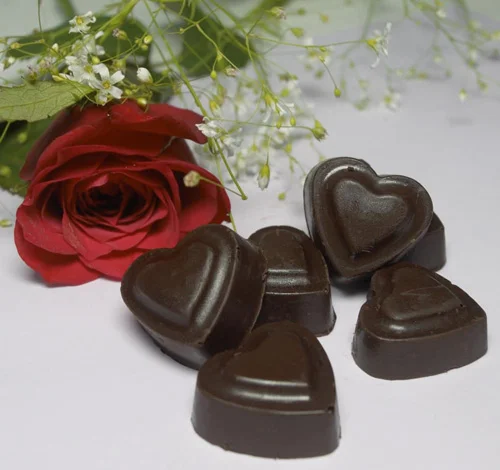 As per earlier beliefs, frequent consumption of chocolate may lead to weight gain and various other serious health problems. But according to recent studies published at Harvard blog, dark chocolate has an excessive positive effect on our blood vessels by improving blood flow, relaxing muscles.
The benefit of dark chocolate lies in the good amount of cocoa content in dark chocolate helps in improving blood sugar metabolism which in turn reduces the risk of diabetes. The authors of the visual study hypothesize, that cocoa flavanols enhance good blood circulation in the brain and eye improving vision and blood vessels of the brain.
At choco fantasy, you can get homemade chocolates that are free of preservatives and thus helps a lot to keep up with the positive benefits of dark chocolate.
Lollipops are an old-fashioned favorite. Trigger your taste buds with this exotic range of handmade flavored lollipops found at Chocofantasy. Be it your all-time favorite mango to vanilla or the very sensational strawberry you get all the mind gobbling flavors here.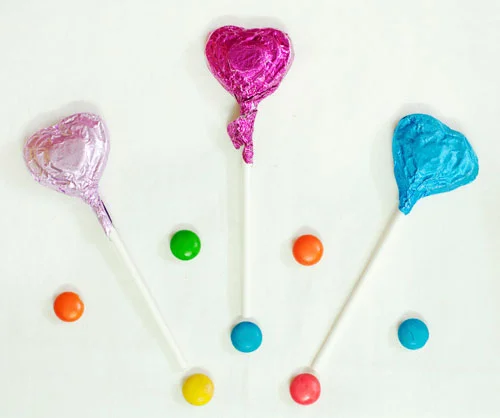 The best part?
You can bless your taste goblets with exotic dark chocolate beneath the flavor of your choice. These lollipops come in extravagant shapes.
No wonder a bouquet of this best selling, handmade flavored lollipops from Chocofantasy can uplift anyone's mood within seconds.
A hamper of this handmade chocolate lollipop from choco fantasy is indeed enough to bring out the kid in you. These lollipops come in different shapes of smileys, animals and what not!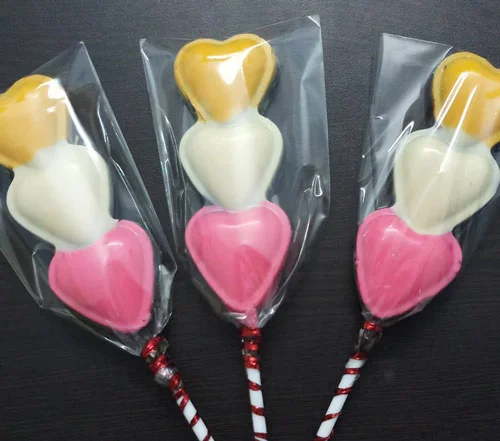 Chocofantasy gives you the delight to taste these extremely tasty lollipops in both the taste of dark as well as milk chocolate.
Don't miss your chance of ordering a basket of this mouth-watering handmade chocolate lollipops online from choco fantasy and get it delivered at your doorstep now.
Be it your midnight craving or a break between your work, this fantastic creation of Chocofantasy will surely be eye-catching to you. The unique duo of orange and chocolate or milk chocolate and dark chocolate will surely reign your world of all the chocolaty fantasies.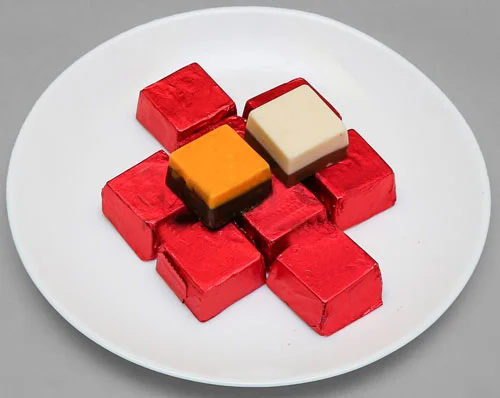 The time is over to get bamboozled about what to get to your loved ones at their special days, order a box of layered chocolates from choco fantasy Kolkata to make their special day more special!
A chocolate gift box is no wonder the most ideal gift to be presented to someone on their special day. Be it Birthday, anniversary, father's day, mother's day or any special occasion, a box of chocolate is always a step go-to option.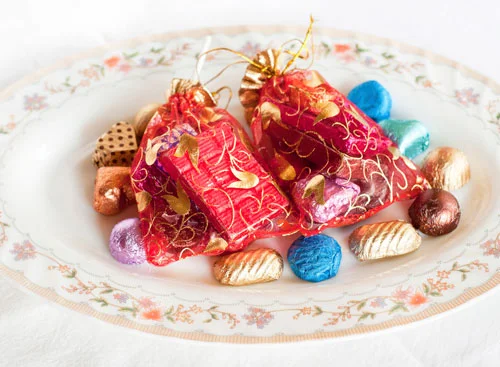 At choco fantasy, you can get a chocolate box of any range. We don't compromise on quality or quantity. The box can be customized according to the occasion! The perfect decoration along with the more delicious chocolates within is the perfect icing on the cake.
Get yourself lost in the divine combination of nuts, almonds, cashews with freshly made dark chocolate. A bite into this extravagant piece of the creation of choco fantasy will make you taste heaven in the mouth.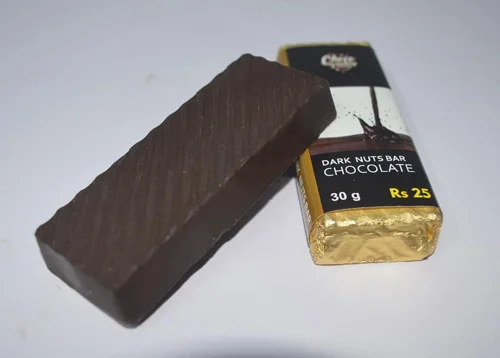 The absence of artificial flavors and preservatives made it all the tastier. Along with the benefits of dark chocolate, the cholesterol-lowering effect of nuts is quite mentioned worthy.
A box of This handmade appetizing creation of dark nut bars is a perfect gift for pregnant ladies as nuts contain high protein level which helps in gaining a mass of the baby and the dark chocolate helps in other growth of the baby.
These colorfully designed chocolates from Chcofantasy is not only a delight to your taste buds but also pleasing to your eyes. These homemade delightful colored chocolates come in different shapes making the kid in you joyful.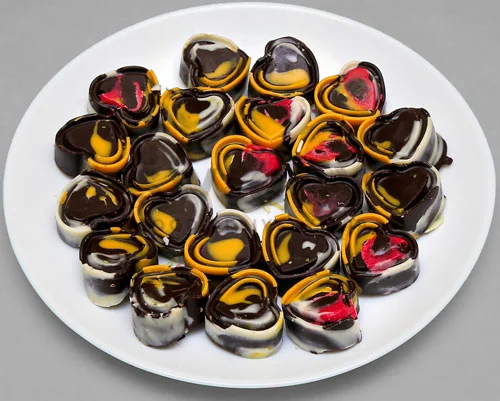 Due to the absence of preservatives, these designed chocolates taste all the more delicious and it contains all the effective benefits of Dark chocolate.
Be it a gloomy Sunday afternoon or a hectic Wednesday evening, a piece of chocolate can always fire up the mood. What about a piece of dark chocolate sprinkled with your favorite fruity flavors and with no added preservatives? No!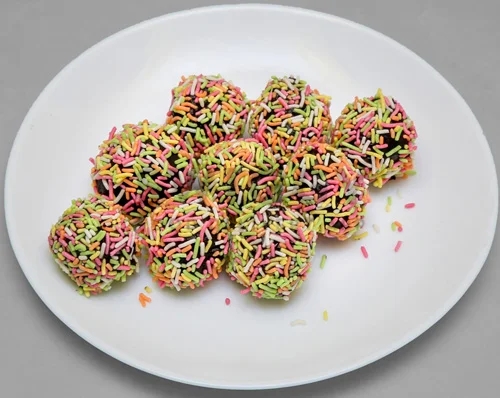 That's no more a part of your choco fantasy. Get your box of chocolate sprinkle balls from the all-new Chocofantasy store in Kolkata. Round balls of dark chocolate boldly coated with sprinkled fruity flavors of your choice.
No tension of added calories or chemicals, for this amazing creation of Chocofantasy comes with no preservation added and with the healthy benefits of fruits added.
---
Read Also: 10 Unique Diwali Gift Ideas For Employees
---
Author's Take
So what are you waiting for? Satisfy the chocoholic person in you with all these amazing creations from Chocofantasy.
Feel heaven in the mouth as these delightful chocolates melt in your mouth.
Order online and Surprise your loved ones with boxes and hampers of these amazing and unique creations of homemade chocolates that are free from chemicals and preservatives and are totally healthy for you